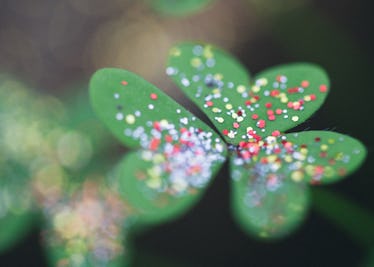 6 Epic St. Patrick's Day Date Ideas To Try With Your Significant Other
When I was younger, I loved going to school on holidays because it meant there would be treats. I grew up in a homemade-cookies-only house, and Jenna's birthday Oreos were a thrill. Mardi Gras meant a King Cake, Valentine's Day was the ultimate IDGAF sugar celebration, and St. Patrick's Day brought the promise of something green, edible, and unhealthy. Now it feels like St. Patrick's Day only brings the promise of a hangover. If you're looking for St. Patrick's Day dates that steer clear of the green puke in your city, I feel you.
The actual treat about St. Patrick's Day this year is that it is on a Saturday, so no matter what you decide to do or not do, you can have a semi-rowdy date with your partner without worrying about work the next day. (Unless you work Sundays, in which case, see number four below.) I am of the mindset that a St. Patrick's Day date can be anything you'd like it to be, and I came up with some ideas for you and your partner that range from vaguely related to Paddy's Day to somewhat educational to downright rowdy. Here are six dates you and your partner can go on this Saturday (!), March 17:
1. Take A Tour Of A Whiskey Distillery
I did this in Brooklyn at King's County Distillery on a Saturday afternoon date recently and it was the best date I've had in a minute. I realized quickly that I have absolutely no idea how whiskey is made, and got to learn about its history and try some moonshine while I was at it. Never underestimate the power of an educational date. Especially when the education has to do with something fun, like drinking.
2. Have A Picnic In A Park
If you are lucky enough to live somewhere where the weather will be temperate, I think you should take advantage of it. Maybe get cute and pack a St. Paddy's-inspired lunch — does corned beef keep well? Or just sneak some Guinness into your picnic basket. Something about being in a green field just seems right on March 17. (You know, if you can't make that weekend trip to Ireland.)
3. Have Irish Coffees And Breakfast In Bed
Since you have already found a pot of gold in your loving partner, why not make your St. Patrick's Day a lazy one far from the drunken monsters that will inevitably be roaming your city's streets? Snuggle up in bed with a great Irish Coffee recipe — this one from the guy who runs New York's Dead Rabbit, voted the number-one bar in the world in 2016, looks awesome. Booze at 9 A.M.? Sure, why not! It's a holiday. (And Irish coffees are damn good.)
4. Learn To Play The Bagpipes
I am mostly just kidding... but if your partner happens to have a friend who knows how to play the BPs and is down to teach you on St. Paddy's, you pretty much can't say no. Because this is highly unlikely, you can also grab this starter kit and have a really weird day with your partner.
5. Go To An Irish Bar And Get Lit
I know, so basic! But if you and your partner haven't just sat at a bar at 3 p.m. together on a proper daytime date in awhile, remind each other what those first few dates felt like by sitting down at an Irish bar and drinking whatever drink you want. You don't need to order a Guinness or Jameson to get in the spirit, you're celebrating the holiday's spirit simply by drinking mid-afternoon. Oh, and make sure you find an authentic Irish bar, not just a sports bar that put an Irish flag out front.
6. Curl Up With An Irish (Or Vaguely Irish) Movie
I will never make a list of date ideas for couples without including one movie or TV option. You've been together forever! You don't need to celebrate every last holiday. Turn on The Boondock Saints or The Departed (vaguely Irish) or go deep and watch Daniel Day-Lewis' performance in the 1993 film In The Name Of The Father with your partner and call it a date. Remember, SPD is on a Saturday, so you can totally drink while having your Irish movie-marathon.
No matter what you decide to do to celebrate this very specific, somewhat random, alcohol-fueled holiday on March 17, the most important thing is that you have some time to enjoy your partner. Who knows, maybe you'll even get lucky. (I mean, hopefully, since you're dating and all...)