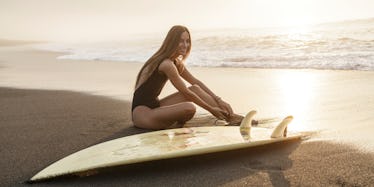 6 Solo Spring Break Trips To Take If You're Newly Single & Need To Recharge
When you're working hard for months on end, spring break is definitely an essential time away from your regular routine to kick back and relax. If you had previously planned on jetting on a romantic getaway with a partner that is no longer in the picture, it doesn't mean you can't still take your much-needed vacation. There are plenty of spring break trips to take by yourself that will give you the rest you need away from your normal life.
Certain spring break trips are definitely a little tough on the wallet, so instead of going for those awe-inspiring world destinations, opt for more budget-friendly breaks. Half of my spring breaks during college were spent visiting my family in South Florida, which saved me money and allowed me to chill by the pool and beach, and get away from hectic NYC life.
Fancy break alternatives can be trips to aspire to and save up for once you're earning that corner-office money someday. For now, choose an adventure to have all on your own, maybe make some new friends while pushing your social boundaries, and most importantly, have fun.
If climbing Machu Picchu is on your bucket list, try the Grand Canyon.
Have an itch for hiking? Get your mind off any ex-relationship drama, and instead explore the natural beauty of the Grand Canyon. Choose from 18 different hikes, from South Rim Day Hikes to North Rim Day Hikes. Be sure to bring a selfie stick or GoPro to document your solo experience.
If you want to see Egyptian pyramids, plan a trip to New York City and visit the Metropolitan Museum of Art.
Of course the Great Pyramid of Giza ranks high on many bucket lists – but save a little bit of money, and easily make the trip to the Metropolian Museum of Art, instead. Fly, drive, or take a bus or train on over to the Met in New York City, which has a massive collection from Ancient Egypt. Pro-tip: Take a nice walk through Central Park after taking in all that cultural knowledge, and grab a mouthwatering, you'll-be-so-full cookie from Levain Bakery!
If you love trying new cuisine, take a cooking class in New Orleans.
I don't know about you, but my priority when traveling is always food. My foodie father investigates the best eats of the area, and we are never disappointed. One place that is next on my list is New Orleans. The Cajun and Creole dishes are delicious and flavorful, so have the best of the best show you how to make jumbo, jambalaya, and more in a demonstration class at the New Orleans School of Cooking.
If Blue Lagoon in Iceland is your dream trip, try some hot springs.
You've definitely seen the Instagram-friendly Blue Lagoon located in Iceland. That trip can cost a pretty penny even if WOW air has some sweet deals – so instead, go visit Alaska's hot springs to cut on international expenses. While in Alaska, be sure to check out the glaciers and huskies, too.
If you obsess over the Loire Valley, plan a break at a winery.
There's nothing a little wine can't fix. Save the Loire Valley for a romantic anniversary years down the line, and for now, take a trip to a winery close to you. You won't need to travel far if you don't want to: there's at least one winery in every U.S. state. Most winery tours take multiple people, so maybe you'll even make some friends on your solo trip.
A French beach Cannes wait, so go to a closer one.
If you live in a landlocked state, fly to the closest beach using budget-friendly website Kayak. This is a trip that needs no explaining: simply pack your cutest swimsuits, sunscreen, a good read, and a big floppy hat, and you're good to go.
No matter where you go on your solo spring break trip, remember to be safe by layering on sunscreen, being aware of your surroundings, and keeping in touch with your family while you're away having the budget break of your life.
Check out the entire Gen Why series and other videos on Facebook and the Bustle app across Apple TV, Roku, and Amazon Fire TV.
Check out the "Best of Elite Daily" stream in the Bustle App for more stories just like this!