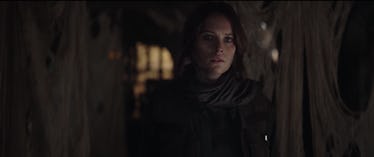 6 Space-Themed Movies To Watch On The Night Of The Super Blue Blood Moon
You may have heard of a Blood Moon, or heard of a supermoon. And you most certainly have said, "Once in a Blue Moon" before. But, what about a combination of all three types of moons? Well, that's what we earthlings are going to see on Jan. 31. Something super spectral, very gorgeous, and definitely an event that you're going to want to spend with friends. Maybe host a little movie night to celebrate this celestial occurrence. And what better way to do that than watch space movies on Netflix all night?
Basically, this Super Blue Blood Moon is a full moon that will appear insanely larger and brighter than normal, and have a reddish, almost sunset coloring. And, it's the second full moon in the month of January, which is rare and where the "Blue Moon" part of the name comes from. It's not something you can see often, and it'll sure show up better than most moons on your phone. It's a good excuse to have a friend's night, drink some wine if you're 21 and up, have some lunar-inspired treats, and snap some pics of the moon in between Sci-Fi movies. Space movies have grown in popularity in recent years and there's a pretty good selection on Netflix to choose from for all of your space dreams.