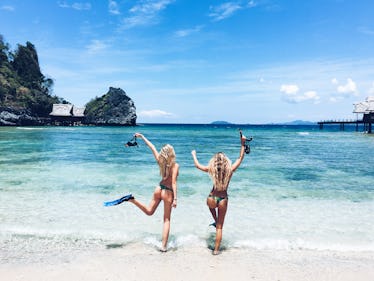 Channel Your Inner Mermaid At These 6 Snorkeling Hotspots This Summer
There is something truly incredible about swimming through crystal clear water and gazing down at the bright, colorful marine life casually bustling below the sea. Snorkeling always allows me an inside perspective on the life of fish, coral, turtles, and other sea creatures. With flippers on my feet and goggles on my eyes, I truly believe there is nothing I can't see or do. Whether it's because I feel like Ariel or because it makes me care so much more about what we, as humans, put into our ocean, snorkeling is one of my favorite pastimes when on vacation. I created a list, so that you too can channel your inner mermaid at these six snorkeling hotspots for summer 2018.
From the Caribbean to the Maldives, there are so many beaches lined with coral that are filled with the unthinkable flora and fauna of the ocean. Besides, what's cooler than chilling with an adorable sea turtle for the afternoon? You can catch some rays, get awesome exercise, and snap the best Instagram pics your followers will be so envious of. Overall, snorkeling is just the greatest, so here are the best spots to hang with the fishies, all while getting a rejuvenating workout.