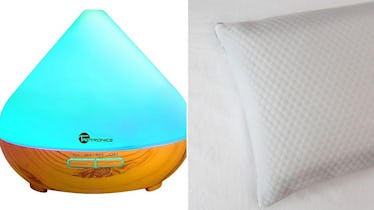 If You're A Sweaty Sleeper, You Need These 6 Products In Your Life ASAP
Amazon/Reverie
There is nothing, I repeat, nothing worse than being woken up in the middle of the night by your own body's massive amounts of sweat. Like, listen Mother Nature, I'm pretty sure blankets were made for a reason, and I don't need you playing these uncomfortably toasty games with me while I'm just trying to catch some quality shut-eye. Being hot at night is truly the worst feeling, and unfortunately, you don't exactly have the power to control the weather. However, there are a few sleep products for summer that do have the power to make you feel blissfully chill all night long.
Despite how fluffy and comfy a big ol' blanket is, your body actually sleeps better when you snooze in a cool environment. Specifically, according to the National Sleep Foundation, the best temperature for your bedroom is between 60 and 67 degrees Fahrenheit. If that seems a little chilly for your preference, there's some science behind why these cooler temperatures are optimal for your rest.
"When you go to sleep, your body naturally cools down," Dr. Benjamin Smarr, a National Institutes of Health postdoctoral fellow at UC Berkeley, and Reverie sleep advisory board member, tells Elite Daily over email. "This cooling is mostly driven by your circadian clocks, but your body expects this cooling to help put you to sleep. Without a solid and consistent sleep routine, the timing of temperature regulation and sleep can lose coordination, resulting in less quality sleep."
So whether your body naturally runs hot, your AC is kind of finicky, or you're simply craving a cooler sleep environment, here are six products that will save your life (or at least your sleep schedule) all summer long.