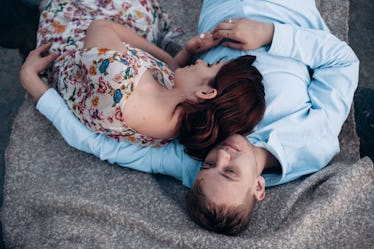 6 Signs Your Relationship Won't Result In Marriage, Even If It's Great
When you are in a really great relationship, it's natural to wonder where it's going, and to ask yourself if your SO is "The One." The answer could definitely be yes, especially if you really feel like the two of you are a team who could make it through any challenge. However, is the fact that you are in a comfortable and generally positive relationship a guarantee that you'll head down the aisle? If not, is there some way to tell the difference? Are there signs your relationship won't result in marriage, even if it's a great one?
To answer that question, I reached out to the experts who all agree that there is a difference between a good relationship and the right relationship when it comes to marriage potential. "It's possible for a really great relationship to not be destined for marriage. There are different kinds of love or relationships that a person may experience in his or her lifetime," Celia Schweyer, a dating and relationship expert at DatingScout.com, tells Elite Daily. "Just because it was great doesn't mean that it is the kind of relationship that would last forever."
So, what's the difference? According to Charese L. Josie, a licensed clinical social worker, it's not the good times, but rather the hard times that will show whether or not a relationship is built to last. "There are great people that can form great friendships, but it does not mean the relationship can also withstand the challenges of marriage. People need to understand the difference between a great person, a great friendship, and factors that can lead to a great marriage," she tells Elite Daily.
With all that said, here are the signs your relationship may not lead to marriage, according to the experts.