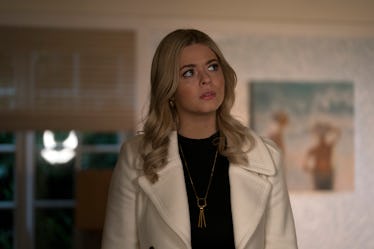 6 Shows Like 'The Perfectionists' If You Love Creepy Teen Drama
Freeform/Allyson Riggs
Freeform's spinoff series Pretty Little Liars: The Perfectionists debuts on March 20, transplanting former Pretty Little Liars mean girl Alison to the picturesque, scandal-free town of Beacon Heights, Oregon. At the prestigious local university, her work as a teaching assistant turns complex when a student she suspects to be dangerous is murdered. The show's creepy air accompanies an irresistible school setting reminiscent of several shows that give the horror of high school a whole new meaning. If those kind of elements are your TV kryptonite, these shows like The Perfectionists will fill your need for some creepy teen drama.
While The Perfectionists is set at a college, its tone is similar to teen shows packed with supernatural creatures, serial killers, or very deadly gossip. In case its back-to-school vibes have you craving a dose of scary academics, there are plenty of shows to keep you satisfied until The Perfectionists is back for more in future weeks. Whether you need to catch up with its Freeform predecessor Pretty Little Liars or hate-watch an even more twisted campus bully than The Perfectionists' Nolan, the picks below will hopefully satisfy your cravings.
So, which of these is bound to keep you up at night?