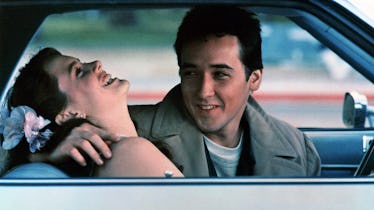 6 Epically Romantic Movies That Show What True Love Really Looks Like
When it comes to romantic movies, it seems like there are usually two kinds: the super-sappy, over-the-top romance stories like The Notebook that tug on your heart strings but will never ever actually happen IRL, or the "realistic" ones that pretty much always end up with the leads realizing not all love stories end happily. They are gritty and full of life lessons about love and loss and finding yourself. Both are great; I'm not here to "romance shame" any movies, but sometimes what you really want are romantic movies that show true love that keep it real but also offer some hope.
Movies that show the reality of love without tipping over into a romance fantasy do exist, although they're a little harder to find. Maybe it's because depicting the nuances and complexities of love is actually really challenging. That's also why, when a movie manages to do it correctly, it can be such a powerful watching experience. While there are definitely times where all you want is some Nicholas Sparks in your life or need a good soul-crushing Blue Valentine cry, there is something to be said for just wanting to see a realistic — and not utterly devastating — romance play out on screen. So, here are some movies to add to your must-watch list that show what true love really looks like.