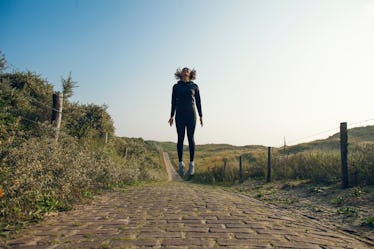 6 Myths About Working Out That'll Sabotage Your Progress If You Buy Into Them
When you think about all the information out there about what kind of exercise is "best," how much you "should" do it, what it "should" look like, or what is "most" beneficial, it can start to get really overwhelming. So much so, in fact, that it can start to feel borderline pointless to even try to navigate it all. To put it simply, though, there are a lot of myths about working out that might just be keeping you from getting your sweat on.
The constant stream of all that information — whether it be fitness influencers giving you "advice" on Instagram, or something an instructor yelled out during your kickboxing class that felt body shame-y — can have a negative impact on how you create your own relationship with exercise, and cause very real anxiety about intentionally moving your body.
I know for me, when I'm focusing on other people's ideas or reasons for working out, I lose sight of why I do it, which inevitably makes the whole experience less enjoyable. For me, exercise is simply about taking care of my body and mind, listening to it, and (hopefully) having a good time in the process.
So if you've heard some ideas, beliefs, or "rules" about exercise that make you feel dread, shame, discouragement, or exclusion instead of feeling more empowered, you can go ahead and flip those ideas the bird.
Movement — which is all physical exercise really is — is for every body. Here are a few myths that are too ridiculous to buy into when it comes to working out.