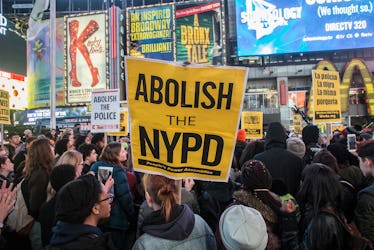 Modern Abolitionists Share What Emancipation Means On Juneteenth 2020
Bill Tompkins/Michael Ochs Archives/Getty Images
June 19 is Juneteenth, which commemorates the day in 1865 when the last formally enslaved people in Galveston, Texas were informed of their legal emancipation — more than two years after the Emancipation Proclamation. But in 2020, 155 years later, activists are still fighting systemic racism across the United States. Following the police killings of George Floyd, Breonna Taylor, and Tony McDade, among others, more and more people have called on elected officials to defund police forces, and ultimately to abolish the prison-industrial complex. So for Juneteenth 2020, here are six modern abolitionists on what emancipation means to them today.
According to Critical Resistance, an Oakland, California-based grassroots organization that challenges existing perceptions of public safety, modern abolitionists have long advocated for a world that doesn't rely on punitive measures as a response to harm. These activists want to abolish the prison-industrial complex, which Critical Resistance defines as "the overlapping interests of government and industry that use surveillance, policing, and imprisonment as solutions to economic, social and political problems."
For many young people who are starting to think more critically about racial justice, the idea of a world without policing, prisons, and surveillance may be a new one. However, activists and scholars have studied and advocated for modern abolition for decades, and there is a sizable body of work dedicated to the subject. Now, as protests continue across the country following the police killings of Black people, this concept is quickly entering the mainstream as Americans increasingly start to question the effectiveness of police reform. For many people, it has become clear that police departments across the country have implemented reforms without any substantial decline in racist police brutality. In fact, according to many abolitionists, police reforms are antithetical to defunding and ultimately abolishing police forces, because they require putting more funding into police departments rather than diverting it away.
For Juneteenth 2020, abolitionists around the country told Elite Daily in their own words what emancipation and liberation mean to them, and what a world without imprisonment and policing would actually look like. It's important to note that while everyone is talking about abolition right now, this work has been going on for a long time. If you want to learn more, you can read about abolition efforts from activists and scholars like Mariame Kaba, Angela Davis, and Ruth Wilson Gilmore, as well as all of those who shared their voices below.
The following interviews have been edited for length and clarity.