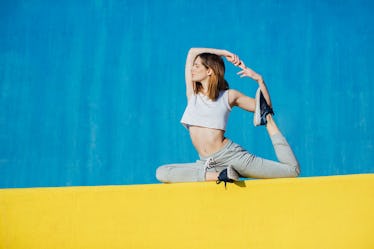 An Expert Reveals The 6 Easiest Tricks To Make Meditation Feel A Little Less Impossible
When you first start meditating, sitting still for even just a few minutes can seem like the most difficult thing on the planet. And don't even get me started on how much your mind wanders. Between thinking about what's for dinner later, and that fight you had with your SO earlier in the day, focusing on the mindful task at hand can seem downright impossible. If ~finding your zen~ is frustrating AF (when everyone says it should be just the opposite), applying some meditation tips for beginners to your practice might help the whole thing seem much more approachable and way less intimidating.
First of all, if you feel like you're someone who just doesn't "get" meditation, it's worth reminding yourself that the practice doesn't come easily to everyone, and that you're 100 percent not alone in feeling frustrated about how distracted you get when you try to meditate. For instance, Katherine Illescas, MBA, a fitness/wellness professional and yoga and meditation instructor, is a self-proclaimed energetic overachiever — who's also very easily distracted, she tells Elite Daily. In other words, she knows the struggles that many beginners face when they're first trying to get the hang of mindfulness. "Meditation can help you focus by shifting your attention from scattered thinking to the present moment," she explains, "but many don't want to do it because it seems boring, unproductive, scary, complicated, or they think they're not good at it."
However, Illescas says, with a few simple tips, tricks, and baby steps, you'll find yourself becoming more self-aware and less uncomfortable in your own meditation practice. After all, you don't just start successfully meditating overnight; it's all about implementing these six small steps into your routine each day, and before you know it, one day, you're actually meditating!