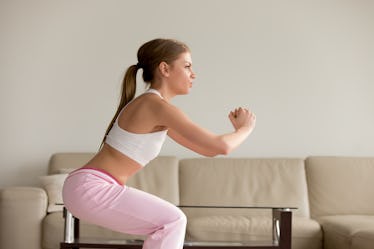 6 Hotel Room Workouts You Can Easily Squeeze Into Your Day During Spring Break
Shutterstock
Spring break is comin' guys, and that means loads of downtime, relaxation, and maybe even sunshine, too, if you're heading somewhere warm for your trip. While your spring break vacay is all about having the time of your life, it's still important to make a little time for mindful movement when you can. Trust me, it's easier than you might think to find time for some quick hotel room workouts before you hit the breakfast buffet, or after you return from a day at the beach.
Not every hotel has a gym, and if you're staying in an Airbnb, your chances of coming across a couple free weights are even lower. TBH, if you ask me, no-equipment workouts are where it's at all the time, even when you're not on vacation. It's pretty mind-blowing that you can get a full-body workout using only the weight of your own body. Am I the only one who thinks that's really cool? Yes? K.
Anyway, these workouts are quick, easy, and I promise they won't take away from any of your well-deserved downtime, because after all, that's really what spring break is all about. These six workouts are simply here to make your time off that much more enjoyable.