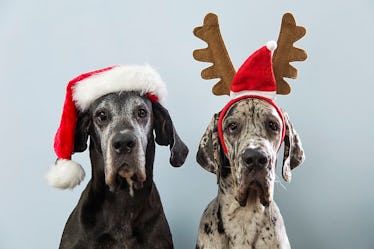 6 Holiday Dog Treats To Make For Your Fur Baby's Stocking This Christmas
The holiday season is all about giving back. It's about looking around, taking it all in, and living your best life — most especially by loving on others who matter most to you. Sometimes, that means giving gifts, other times that means volunteering your time for a great cause, and sometimes... that means doing something a little extra special for your fur baby (or your friend's fur baby). This year, don't let your doggo miss out on the cookie swapping by whipping up some amazing holiday dog treats.
If you've ever owned a dog, you know those mischievous (but absolutely adorable) little pups are always down to eat. I mean, that's why they make great friends, right? 'Cause, same. When it comes to the holiday season, the human essentials are about all things warm and cozy AF — from the decorations and music, to the clothes and holiday treats. It's time to spread that cheer to our furry friends.
I mean, every year your pup (or your friend's pup) most likely watches the holiday season come and go without a bite of the holiday for themselves. They love on you anyway, and continue on with their doggo lives. But this year is the year of change. You're baking in the kitchen already, right? It's time to add just a few more dog-friendly ingredients to your shopping list.
This year, switch it up with just one or two of these six mouthwatering holiday treats, made with love for your fur baby. They'll thank you with lifelong cuddles, sloppy kisses, and always being there to keep you company.