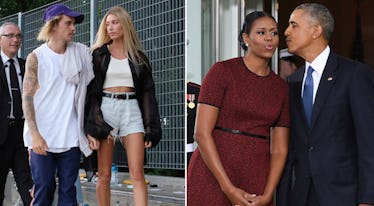 6 Halloween 2018 Couples Costumes That Aren't Corny, So You Can Easily Convince Bae
Nicholas Hunt/ JIM WATSON/AFP/Getty Images
I don't care what anyone says, Halloween is one of the best holidays to celebrate with bae. Sure, Valentines Day is romantic and Christmas is a great time to snuggle and give each other presents, but Halloween is when you and your partner get to dress up, go out, and let go! So, as you prepare to have the best time ever, it might be helpful to have these Halloween 2018 couples costumes that aren't corny in your back pocket. Convincing your boo to dress up with you can be a challenge, but they won't be able to say no to these!
Every year abounds with pop culture moments so popular, you can pretty much guarantee you'll see them on Halloween. This year, you can definitely count on a few Wonder Woman's, at least a few Elastigirls or Mr. Incredible's, and a heck of a lot of Meghan Markle's. But if you're spending Halloween with your bae, then you're probably looking for some great couples costumes ideas. Girl, you've come to the right place. As cute as the idea of a Disney prince and princess costume is, you can do better. (And you can also dress up as something that doesn't perpetuate sexist tropes.)
And remember: Dressing up for Halloween is all fun and games until you step into disrespectful territory. Be sure to refrain from blackface and harmful stereotypes if dressing up as someone of a different race. Have fun, but not at the expense of someone else's culture.