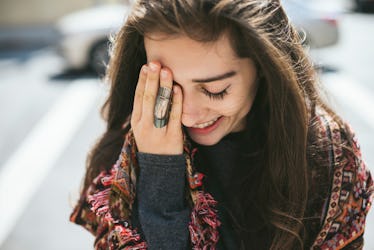 6 Habits That Make You Happier, Even If You're Pessimistic AF Most Of The Time
Happiness is a virtue that not all of us possess, but just because you're someone who generally doesn't peek out at the world from behind rose-tinted glasses, that doesn't mean there's anything wrong with you. Your pessimistic nature just means there's that much more room in your life for a little up-lifting. After all, happiness is a journey, and there are so many habits that make you happier, guaranteed. Of course, the tricky part isn't finding them; it's actually having the motivation to implement them into your daily life.
I encourage you to turn that frown upside down and smile, smile, smile. Yes, I do realize how unbelievably corn-dog of me that was to say, but what's not so cheesy is how well that little trick actually works. I was skeptical too, at first, when I was feeling exceptionally cynical one day when my husband instructed me to do the same. He told me to smile, so I offered a small wince. When he told me to smile bigger, I ended up laughing and feeling a little better! Now every time I'm in a funk, I take a second to stop what I'm doing and smile.
TV and movies have us convinced that happiness is defined by grand gestures, and that a genuine feeling of pleasure can only be obtained from having your sh*t entirely together. Well, let me tell you something: Nobody has their sh*t entirely together — at least, not all the time.
Happiness is something to strive for every single day, so despite work deadlines being pushed up, spilling coffee on new shoes, or failing that midterm you thought you'd definitely aced, the goal is to focus on the positive details. Skeptical? Here are a few life hacks to make even the most pessimistic person a little bit happier because, I promise, life's not so bad.