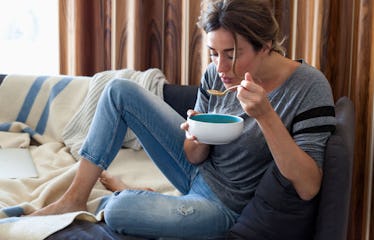 Experts Say These Are The Best Foods To Eat When You're Sick & Have No Appetite
I'm not a picky eater in general, and rarely am I ever not hungry (I'm one of those people who wakes up starving and lives for midnight trips to the diner). This all changes when I'm sick, though; it's like a switch inside my stomach turns off and I'm perfectly content living off Lipton tea and saltine crackers. Unfortunately, even if your appetite vanishes when you're feeling under the weather, your body needs nutrients to support the healing process. Ergo, it's always helpful to stock up on the best foods to eat when you're sick and not hungry, just in case, because even though you never plan to get sick, if you know for a fact you're finicky when you do, having a means of sustenance can help get you through it.
For the record, it's not unusual to lose all sense of an appetite when you're sick. It's ironic, because your body needs nutrients and to stay hydrated — especially if you're dealing with some kind of stomach virus where you're losing liquids — and yet your body's usual hunger cues are nowhere to be found. In fact, Amy Gorin, MS, RDN, owner of Amy Gorin Nutrition in the New York City area and a spokesperson for KIND, tells Elite Daily you could easily lose your appetite while battling the common cold.
"When you have a cold, your body's immune system releases chemicals that may make you tired and not feel like eating," Gorin explains. But, she adds, "eating certain foods that are hydrating and full of immune-helping vitamins and minerals may help make you feel better."
So even though you may not want to eat, your body would probably benefit from you at least trying to do so. Here are the best foods to eat when you're sick, even if your appetite is pretty much non-existent.
We only include products that have been independently selected by Elite Daily's editorial team. However, we may receive a portion of sales if you purchase a product through a link in this article.