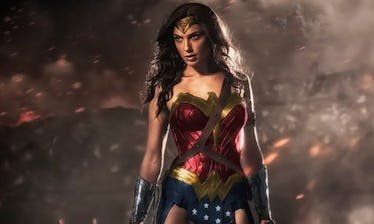 These Easy 'Wonder Woman' Costumes Will Help You Slay Halloween This Year
Warner Bros.
OK, ladies, now let's get in formation. The time has come, and we must rise up! For it is Halloweeeeeen! It's obvious women won the year of 2017, so let's all dress the part because we are all Wonder Woman. I love her. I love the movie. I love it all. Wonder Woman costumes are amazing because you'll look sexy, feel strong, and not be intimidated by any annoying guys trying to hit on you at the party. Nobody messes with Wonder Woman. These easy Wonder Woman Halloween costumes will help you slay hard this year. Also, Gal Gadot is an absolute dream, and you're honoring her by wearing the magnificent outfit. Can you tell I am obsessed?
Although there are many timeless, classy Halloween costumes out there, a Wonder Woman outfit is the only real way to go. Here is a guide to finding the cheapest and most convenient costumes out there for all Wonder Woman eras. Go out into the night and embrace your powerful womanhood. We are all badasses. All. Of. Us. Get out your wigs and your lassos of truth because we are coming for you, Halloween.
Old School Wonder Woman Costumes
First things first. We have to devote our time to the old school Wonder Woman. These are the looks that started it all.
1. Comic Book Wonder Woman
In 1941, the first Wonder Woman came to life. Artist Harry G. Peter gave her the iconic American-themed colors, but drew her with a long, blue skirt. Oh, how the times have changed. Here's what you'll need:
Wonder Woman Headband, $18, Amazon
Black Cuff Bracelets, $10, Amazon
Red Corset Top, $31, Amazon
Blue Long Skirt, $17, Amazon
Or you can find the completed outfit here.
2. Linda Carter Wonder Woman
Wow. She stunned in this outfit from the original television show, Wonder Woman. Here's what you'll need to achieve this outstanding look:
Blue Star Underwear, $9, Amazon
Lasso of Truth, $11, Amazon
Red Corset Top, $31, Amazon
Gold Cuffs, $14, Amazon
Wonder Woman Headband, $18, Amazon
New Age Wonder Woman Costumes
The glorious Gal Gadot honored Linda Carter with her rendition of the famed Wonder Woman character, and she did not disappoint. Let's look back at Gal's outfits from the film and recreate the looks on a budget.
3. All Business Wonder Woman
Remember when she dressed just like a businessman, despite how the other women were dressed? Yes, that was a huge moment for us all. Here's how to get this look for cheap:
Fake Glasses, $7, Amazon
Grey Long Peacoat, $51, Amazon
White Dress Shirt, $16, Amazon
Long Grey Skirt, $31, Amazon
Brown Belt, $14, Amazon
4. The Hooded Wonder
This discrete but serious look from Wonder Woman had fans obsessed. Although the jacket appears expensive, you can find one for relatively cheap. Also, think about how comfortable you'll be all night. Ah, warm and cozy. Here's what you'll need:
Wonder Woman Headband, $18, Amazon
Long Black Hooded Coat, $50, Amazon
Gold/Silver Arm Gauntlets, $8, Amazon
Brown Belt, $11, Amazon
5. The Island Wonder Woman
This was the outfit she wore at the beginning of the film that blew everyone's minds. I mean, we all thought Gal Gadot was beautiful before... but up on the big screen she was something else. Here's what you'll need:
Brown Corset, $16, Amazon
Brown Pleaded Skirt, $23, Amazon
Long Black Ponytail, $22, Amazon
Brown Gladiator Sandals, $26, Amazon
Gold/Silver Arm Gauntlets, $8, Amazon
Round Shield, $18, Amazon
6. The New Wonder Woman
The powerful new Wonder Woman emerged just in time for battle and blew all of our minds. The new costume is fierce yet feminine and perfect in every way. I am in love.
Complete Wonder Woman Costume, $15, Amazon
High Boots, $30, Amazon
Lasso of Truth, $11, Amazon
There you have it. Now, go out there and kick some ass! It's going to be a WONDERful night.