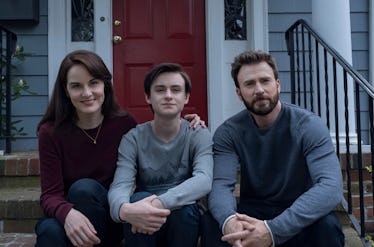 6 Important Differences In The 'Defending Jacob' Book & Series
Apple TV+
Defending Jacob is Apple TV+'s latest entry into the whodunit genre, and it's a doozy. With an all-star cast of Chris Evans, Michelle Dockery, J.K. Simmons, Cherry Jones, and Jaeden Martell, this mystery takes a new tact in solving the murder of a 14-year-old boy, Ben, by focusing on the family of the accused. Jacob, Ben's classmate, becomes the main suspect in a trial that envelopes the whole community. But the differences in the Defending Jacob book and series are such that the ending feels very different.
The novel the series is based on, Defending Jacob by William Landay, does not give a clear cut answer to whether or not Jacob (Martell) is guilty. Told from the perspective of Jacob's father Andy (Evans), it's one man's journey into questioning if his love for his son has blinded him and his wife Laurie (Dockery) to the truth.
The series is more third-person, though still heavily told from Andy's perspective. But unlike the book, which at every turn throws out another hint Jacob is guilty, the series makes it much more ambiguous. Some of that is up to Martell's performance, which is much more innocent that the character comes across on the page, But it's also due to the adaptation's changes from page to screen.