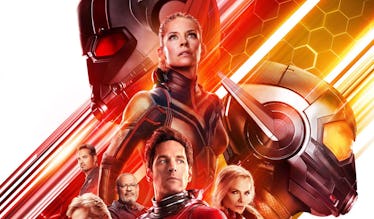 6 Details In The 'Ant-Man & The Wasp' Trailer You Definitely Missed The First Time Around
Marvel
Hot on the heels of Avengers: Infinity War's box office conquest, Marvel is rushing out the trailer to their next film, Ant-Man and The Wasp. With so many fans semi-hysterical at Infinity War's ending, and frustrated that they have to wait a full year for it to be resolved, this is Marvel's best chance to get Ant-Man in a prime position to benefit from an audience hungry for any clues of how Infinity War's cliffhanger could be resolved. The trailer might even hold clues itself. Several details in the Ant-Man and The Wasp trailer point to a plot that may teach viewers useful things about time and space, and the manipulation of it.
When the original Ant-Man came out at the tail end of Phase II, it was not placed in the best spot. Avengers: Age of Ultron had been a frustrating film that hadn't handled the expanded pantheon of characters well. Audiences were beginning to complain louder about the endless parade of white male superheroes. There wasn't much sexy about a dude who shrank down to ant, he didn't seem the kind of character anyone would really like.
But Paul Rudd did a decent job with the material, and despite the bumpy production when director Edgar Wright quit before filming started, Ant-Man is ranked in the mid-pack of MCU films. Now the sequel is well placed to pull in all those fans they missed on the first pass.
Here are the major moments in the trailer you might have missed.