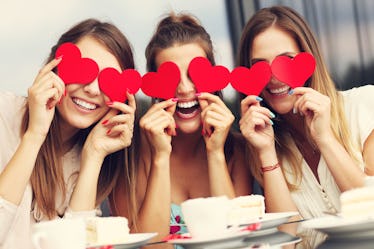 6 Attainable Day Trips For Galentine's Day, Because Your Girls Are The Real Deal
Why not go on an adventure with your favorite ladies this Galentine's Day? You may be celebrating Valentine's Day with your significant other, but Galentine's Day is all about your girls — because friendships deserve to celebrated, too! Galentine's Day is the perfect time to catch up with your besties, treat yourselves, and make some new memories that'll last a lifetime. There are so many ways that you can enjoy the day together, so be sure to make the most of it. If you're looking for inspiration, then consider these incredible day trips to take on Galentine's Day 2019.
Galentine's Day takes place on Feb. 13 every year, and it's a highly-anticipated affair. Every moment you spend with your best friends should be appreciated, but let's be honest: Life happens. It can be so easy to let your busy schedule and work commitments take over at times, so this is a great way to show your girlfriends that extra love and appreciation they deserve.
If you have an amazing girl crew in your life, then you know you're blessed. They love you, make you laugh uncontrollably, and have stuck around through it all. So, call up your besties and start planning a Galentine's Day trip, because they're the real deal.