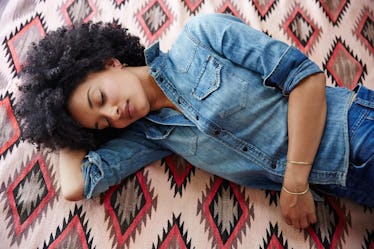 Experts Reveal The 6 Most Common Sleep Habits That Are Actually Terrible For You
Admit it: There are some parts of your bedtime routine that might not exactly be the best things ever to promote a totally restful sleep. Maybe the last thing you do each night is scroll through Instagram for a solid 45 minutes, or perhaps you love drinking a Diet Coke with your 10 p.m. crossword puzzle. You might not think much of these common sleep habits, like your delicious after-dinner espresso, or your tendency to sometimes (OK, a lot of the time) fall asleep with the lights on, but some of them are actually pretty bad for you, and they could explain why you never seem to feel as well-rested as you should.
Now, how much sleep you need to actually feel "well-rested" sort of varies from person to person depending on a bunch of different factors, but according to the Cleveland Clinic, you should be aiming for about seven to eight hours a night. However, if you're constantly missing the mark on that, the medical center explains, it can lead to things like mood swings and lack of focus in the short-term, and potentially "more long-term and serious health problems," like high blood pressure, heart failure, or even depression.
And yes, believe it or not, these issues can start with little habits that you think are OK for you right now, but could actually be doing more serious harm to your body in the long-term. The good news is, once you know which habits have to go, it's pretty easy to figure out some simple alternatives to work with. Here are a few common sleep habits that are often worse for you than you realize.