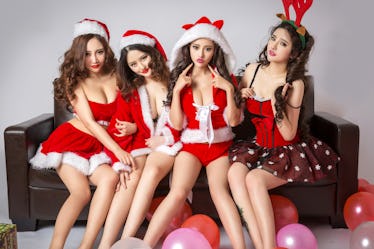 6 Christmas Costumes For Halloween That Are Sexy AF
Over the years, holidays or occasions have seemingly started to get celebrated closer and closer to each other — like the way you see Christmas decorations pop up the day after Thanksgiving. The turkey is literally still digesting, people. Apparently, we love any reason to celebrate so much, that the holidays barely get time to breathe individually. Wearing sexy Christmas costumes for Halloween will further show how obsessed you are with holidays, period, so mashing two together seems like more fun.
Call it being hopeful or aspiring, but while one holiday or festivity is unfolding, we are already skipping through the pages to anticipate the next one. Sure, you might get some eye rolling or WTF faces when you stroll in looking like a part of Santa's exclusive squad, but who cares? Halloween is about being what you want to, right? There are no rules saying that you can't be Christmas for Halloween, and if there were, we'd break the rule, anyway.
If you think about it, Christmas has so many different characters or concepts, there's enough for it to dip into another holiday. Halloween is a great time to deal with all of the amazingly festive things stuffed into Christmas. So, if you're down to have a merry time this Halloween, consider a few of these sexy, not at all ho-ho-horrifying Christmas costumes.