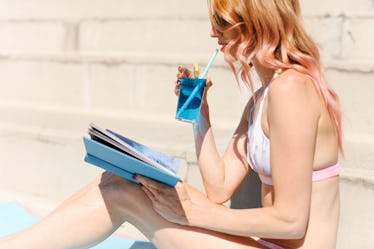 6 Books That Perfectly Capture The Ridiculous Drama Of Dating In Your 20s
STOCKSY /
My personal feelings on how to date in your 20s are mixed. I know I'm doing something right when I can power through a night drinking cocktails with a stranger who spends an hour detailing the intricacies of his dental work on a Monday night... and still have the stamina to get back on the dating horse again on a Tuesday night. (For the record, there was nothing wrong with the teeth guy. He was just more vanilla than a Mr. Softee ice cream cone.) But solidarity comes in many forms, and reading books about dating in your 20s have made me feel better about all the conversations I've had about dental work on dates over the years.
We all know that dating in your 20s is a different experience today than it has been in generations past — your parents, grandparents, and the checkout lady at the grocery store have all already reminded you of that. In the digital age of apps and Instagrams, I don't necessarily want to read about a fairytale romance or an unattainably perfect meet-cute. I just want something to relate to, you know?
Whether you read these books on your Kindle or hear them in your ears via headphones, if you've ever been out on a less-than-dreamy date and wondered what the eff is in the water these days, these books will comfort you in a major way.
1. Things You Should Already Know About Dating, You F*cking Idiot By Ben Schwartz And Laura Moses
This is a collection of hilarious dating tips that will comfort anyone who's ever had a terribly confounding experience on a date. "PUT YOUR PHONE DOWN, *SSHOLE!" is a personal favorite tidbit. (Shout-out to that time a dude had two phones out while on a date with me. Apparently, I am worse company than a work phone.)
2. Moan: Anonymous Essays On Female Orgasms By Emma Koenig
Emma Koenig, the woman behind F*CK! I'm In My Twenties, delivers this superb collection of anonymous and diverse essays that answer the question of how to make a woman come. This book is for you and all of the subpar or missing orgasms from your most recent lackluster hookup.
3. Playing With Matches By Hannah Orenstein
If you've ever swiped through Tinder on the couch with your best friend, you need this book. Real-life former matchmaker Hannah Orenstein delivers the tale of Sasha, a 22-year-old matchmaker who juggles the eccentric demands of her clients with her own increasingly complicated love life. Dating apps play a huge role in this sizzling story.
4. Hey Ladies! By Caroline Moss And Michelle Markowitz
Have you ever been a bridesmaid? Cool, this is the book for you. Based on the column of the same name that appeared in The Toast, Hey Ladies! follows a group of fictional women as they navigate a year full of weddings. The best part? It's written in the most hilarious group chats, texts, and email threads you've ever read.
5. Unwifeable: A Memoir By Mandy Stadtmiller
Endorsed by both Cheryl Strayed and Courtney Love, this memoir from a former dating columnist at the New York Post and The Cut is deeply authentic. Stadtmiller's smart, unflinching retelling of her failed relationships and most outrageous drunken nights is heavy, but incredibly real.
6. When Katie Met Cassidy By Camille Perri
Katie thinks she's straight. And then she meets Cassidy. This is a book about exploring your sexuality and figuring it all out as you grow into your adult self. A must-read for anyone dating in their 20s, especially if they've dated both men and women.