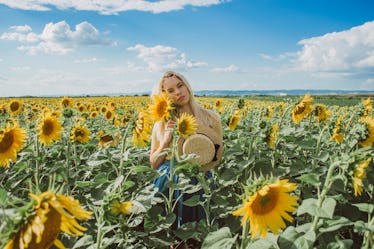 6 Stunning Sunflower Fields Across The Country To Travel To For The Perfect 'Gram
There's something about a sunflower field stretching for miles upon miles that makes you feel like you're chilling on cloud nine. If you're an avid traveler whose wanderlust consistently seems to get the best of your heart (and your wallet), adding several sunflower fields to your bucket list is always a good idea. A very wise person once said, "Travel while you're young and able. Don't worry about the money, just make it work. Experience is far more valuable than money will ever be," and they were all too true. Luckily for you, we've put together a list of the best sunflower fields across the country you have to see IRL to believe they exist (yes, they're that beautiful).
There's no better time than the present to check off as many destinations as possible off of your travel list. Needless to say, grab your main squeezes, pack your bags, and get ready to take an insane amount of gorgeous pictures. Be sure to be respectful of these magnificent flower fields, because we are truly beyond blessed to experience their exquisite existence. With just one look, you and your girlfriends will be irrevocably hooked... and so will all of your Instagram followers. Get ready to fall in love with the views.