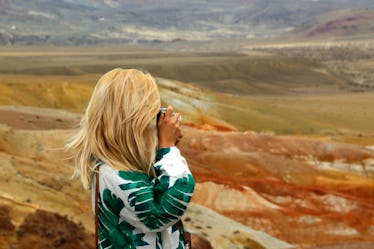 I'm A Self-Proclaimed Travel Photo Aficionado & Love These 6 Small Cameras
Shutterstock
As someone who has proudly been to 10 countries so far this year — and has taken many pictures — I like to think of myself as somewhat of a travel photo aficionado. I love capturing moments abroad, whether it's of a breathtaking landscape, a stunning sunset, or me posing in front of something I think is cool. But because I often travel out of a carry-on and I'm always looking for ways to conserve space, I've had to find the best small cameras to travel with so I can capture #content and save room in my luggage.
I've been known to bring a variety of cameras on trips, from GoPros to giant DSLRs, but these cameras have never let me down. They're easy to slip in and out of my luggage or carry-on bag, and they produce good quality photos I know I'll carry with me through the rest of my life. I love that these cameras have helped me capture some of the most memorable moments of my life, from as far as the Philippines and India, to closer to home in Puerto Rico, and even around Los Angeles where I currently live.
I know I'll continue relying on these cameras for many more years to come, and I'm so glad I have them to bring on trips around the world with me.