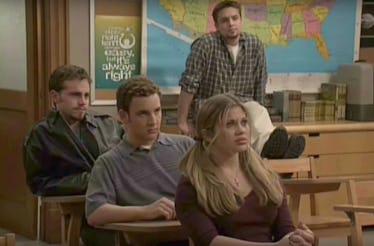 6 Best Moments From 'Boy Meets World' That Weirdly Define You & Your Crew To A T
There are very few shows that everyone has seen. There's Friends, Fresh Prince, and a few other 90s icons that can be universally discussed. A big one, though, is Boy Meets World. Definitely a seminal classic, the story of Cory, Topanga, Shawn, and Eric and their escapades are a key point of our childhood and took up a ton of my screen time growing up. Needless to say, some of the best moments from Boy Meets World, most likely, weirdly define you and your friend group to a T.
There was always just so much love and life lessons to be had in the show that we could all relate to. Cory and his close-knit group of family and friends not only resonated with a lot of audience members, but they were constantly positive and showed the good of things, even when their lives weren't going according to plan. After the series ended in 2000, I know I personally couldn't wait until I was in college with a friend group like theirs. I also naively thought all college students had apartments like Eric's and Jack's apartment, and that I would find a teacher in high school who weirdly followed me all the way through college (none of which are obviously accurate). But, it was a great, wholesome show to grow up on.
Over 17 years after the final episode aired, I'm still searching for a cute bean-of-a-man like Cory Matthews, but I've got the friends down pat. And even though none of us will ever live the lives of Shawn Hunter or Cory Matthews, some of their hilarious encounters are definitely things we can relate to. Out of the thousands of funny moments from their seven seasons, here are just a few that are so weirdly familiar to our daily lives.