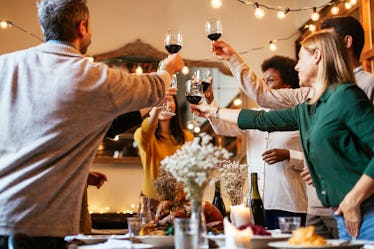 6 Annoying Things About Friendsgiving When You're Single AF, Because It's Not All Gravy
It's the most wonderful time of the year: Thanksgiving and all the mini celebrations that come with it. There's the Thanksgiving office party that's always lit, the menu specials at your favorite local pub, and of course, Friendsgiving — a special day where you and all of your friends gather in one of your too-small apartments, try your hand at cooking, and have a little too much wine. It's a grand time for all, but there can be some annoying things about Friendsgiving when you're single that are way too relatable if you're not bringing a plus-one this year.
Let's face it: While there are tons of perks to being single, there may be certain occasions where you might forget what they are. Family gatherings can be stressful if everyone in your fam has nosy questions, such as: Why you aren't married yet? Who are you dating? Friendsgiving (although usually filled with supportive people who love you) might get annoying if you feel like you're third, fifth, or seventh wheeling a gathering full of couples. While it can and should be a blast filled with delicious food and alcohol, when you're single — and especially if most of your friends are in relationships — Friendsgiving can sometimes feel kind of lonely. But it doesn't have to!
While you already know that being single rocks, if you need to commiserate over the fact that you just spent four hours surrounded by happy couples, you've come to the right place. Here's what Friendsgiving looks like if all your friends are coupled up.