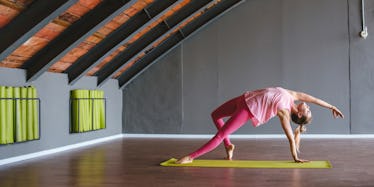 5 Yoga Poses That'll Ease The Tension Out Of Your Sore Neck & Shoulders
Whether you're spending hours hunched over a computer at work, going hard at the gym without proper stretching, or you're simply stressed AF, tension tends to take up residence right in your neck and shoulders. Like, hi, I did not invite you into my body, and you need to GTFO now, please. The struggle is real, but thankfully, a few simple yoga poses for your neck and shoulders should do the trick to banish tension and keep that upper bod feeling loose and limber no matter what.
Whenever you're hit with a wave of stress, whether it's emotional or physical, it's super common for your neck to tighten up almost instantly. Combine that with sitting for prolonged periods of time in front of a computer as part of your work or school day, and you're creating an overall unpleasant situation for your whole upper body.
Sometimes, it's possible to rearrange your work space in a way that's best for both your comfort and your productivity. For example, a 2014 study showed that doing exactly that could help relieve upper-body soreness and tightness in the long-term.
But let's be real: If you're confined to a cubicle between the hours of 9 a.m. and 5 p.m., or if you're only able to focus on your studies at school by parking your butt in the dusty library for hours on end, rearranging these different spaces may not be all that realistic. Still, you need some relief ASAP.
These five yoga poses are super easy to add into your daily routine, even if you're busy AF most of the time. And hey, even if your schedule is totally slammed, everyone should make time for self-care, don't you think?