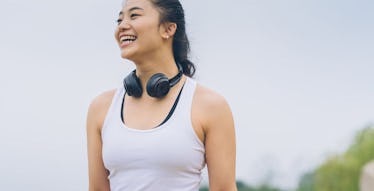 Fitness Experts Reveal The Best Workouts To Do When You Need A Boost Of Confidence
Confidence is is like coffee: A heaping dose of it makes you feel like you can conquer just about anything. But some days, that sense of self-assurance feels difficult to come by, and you have to work a little harder to feel like the unstoppable badass that, deep down, you know you are. Whether it's repeating feel-good mantras, putting on an outfit that makes you feel sexy AF, or doing workouts that make you feel confident, everyone has their own way of instilling a good old confidence boost to help them feel like the best version of themselves.
According to Dominique Talley, MSW, CPT, a therapist and certified personal trainer, there's a reason why so many people use fitness as their go-to confidence boost, and it doesn't necessarily have to have anything to do with appearance: "There are few things that boost confidence quite like finishing a tough workout," Talley tells Elite Daily. "You're sitting on the floor, dripping sweat, chest heaving, endorphins flowing, and thinking, 'Damn that was hard — but I did it!'" Sound familiar?
What's more, Talley says, it's not just the immediate endorphin rush that makes you feel more confident. A regular workout routine can literally change you from the inside out, she explains, improving not just your physical strength, but also your energy levels, your discipline, your grit, and even your ability to truly believe that you can accomplish anything you set your mind to.
"While there are lots of workouts that can challenge you and leave you feeling like a badass, you can dial in your workout choice specifically for whatever event you have coming up so that you get a confidence boost perfectly tailored to what you need," Talley says.
Here are five workouts that are sure to leave you feeling like the most capable and confident version of yourself when you need that boost the most.