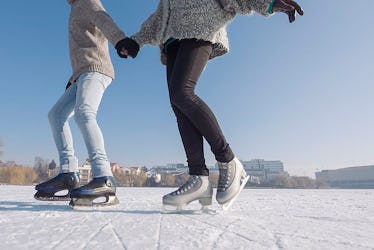 5 Workouts To Try This Winter That Are So Fun, They Don't Even Feel Like Exercise
When chillier days roll around and snow starts to fall, all I want to do is roll myself into a blanket burrito with an unlimited supply of hot cocoa and hibernate until spring. Sticking to my usual workout routine in the winter sounds like actual torture. I mean, who wants to constantly clean off their car just to go to the gym? But if hitting up the gym sounds unappealing AF, there are plenty of other workouts for the winter that are actually so fun, they have the power to lure just about anyone out of a cozy blanket fort, even when it's below freezing outside.
Getting outside and taking advantage of the winter wonderland that magically coats the world around you is one of the best ways to stick to your fitness routine when you're snowed in (or simply lacking motivation). There are so many fun winter activities that are actually low-key workouts, but they're so entertaining that you don't even realize you're doing your body good in the process. Plus, bundling up and exercising on unusual, snowier surfaces actually forces your muscles to work harder than they would on an even surface indoors. More fun and more #gains? Sign me up.
So, the next time you're really not feeling another trip up the StairMaster, try taking advantage of one of these unique winter workouts that are so fun, they don't even feel like exercise.