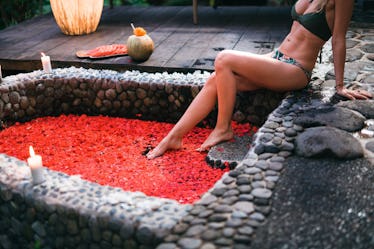 These Are The Weirdest Spa Treatments Around The World, So Book Your Flights ASAP
As much as I love face-masking on a Monday, treating myself to a mani/pedi every Thursday, and turning my shower into a sauna every Sunday, I'd take treating myself to a spa service over self-pampering any day. Trust me, your girl gives herself the star treatment whenever she can, but there's just something about the ambiance of a spa, and having someone else worry about painting your nails evenly for a change, that's just so satisfying. I generally stick to treatments I've already tried and loved, but there are some weird spa treatments around the world that just might be tempting enough to experience, even if that means traveling halfway around the world for the occasion.
I was 16 years old when I had my very first spa experience. My older sister treated me to a junior massage and facial as a thank-you for being in her bridal party, and I can honestly say it was as magical as I always imagined it would be: The room was dimly lit, with incense burning something soothing, like lavender, in the background, and I can remember being on the cusp of sleep as the masseuse fell into a rhythm while digging out the knots in my back and neck. After an experience like that, how could I not become a spa connoisseur?
Most spas offer similar treatments, like Swedish and stone massages, facials, and manicures, so you have to do a little digging — maybe even a little traveling — to scope out the more unique services. The experts at the language-learning app Babbel sent Elite Daily a list of some of the weirdest, and arguably most awesome spa treatments around the world. Check out the services below, and decide for yourself if they're worth the flyer miles.