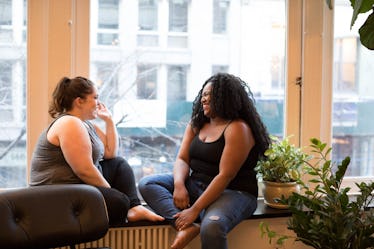 5 Ways To Survive When Your BFF Gets A Significant Other
Ashley Batz / Bustle
There comes a point in every great friendship when the balance suddenly shifts. You are your BFF have been sailing along, sharing clothes and cocktails and dating horror stories. But one day, the latest dating story isn't *so* horrible. Soon, you're hearing about a second date, and then a third. And before you know it, you're not hearing much at all. Ouch.
Your closest friend, your Best Friend Forever, is head over heels into a new relationship, leaving you ... well, if not behind, then at the very least feeling a little out of the loop.
No matter how overjoyed you may be for your bestie (don't we look happy!?) it's natural to feel a little bit like you've been left stranded on a desert island all by your single self. That's why we teamed up with Cupcake Vineyards to help you find the silver lining in this strange time — it is possible, we promise! All it takes is a little creativity, optimism, and some good old fashioned third wheelin'!
Here are 5 ways to survive when your BFF gets an SO.
1. Make your time together count
Your Saturday night bar crawls have morphed into Sunday morning text catch ups. The sudden lack of IRL time can take some adjustment, but it's also the perfect opportunity to make the time you do get to spend together truly memorable.
Instead of hitting up your regular old brunch spot, why not plan something more random like doing a brunch crawl and getting drinks at one place, hash browns and toast at the next, and eggs at another? Instead of getting your usual weekend pedi together, host your bestie once a month for a DIY spa night, complete with homemade (edible!) masks and lots of wine. The sudden lack of endless time may just be the friendship refresher you never knew you needed.
2. Make your BFF's significant other set you up with a friend
If your friend's new love interest is so great, chances are there are more great people where they came from. Ask your bestie to have her main squeeze invite a cute friend to join you guys for a fun double date activity like bowling. Then sit back and revel in the inevitable awkwardness of it. If the date is terrible, at least you'll have a new inside joke! And if it's great, you'll have plenty of future double dates on the horizon. Win-win!
3. Find the joy in doing certain activities solo
There are some activities — like going to the gym, seeing a movie, grabbing dinner at a nice restaurant — that people think are perfect for date nights and friendly outings.
Here's the deal though, we're here to tell you that those people are wrong. Have you ever gone to the gym without feeling pressured to keep up with your gym rat buddy on the treadmill next to you? Or seen a movie and not been expected to share popcorn with anyone? Or hit up your fave restaurant and ordered two appetizers without worrying about anyone judging you?
Lean into your single status and find the fun in going about your favorite activities YOUR way.
4. Embrace those third wheel vibes
Look, we get it — third wheeling gets a pretty bad rap. But spending some quality time with your pal and her new person may just end up being way more fun than you expected.
Hanging out with a couple means that you'll automatically be deemed the 'fun friend,' they'll probably pay for stuff for you (because happy people want to spread the love — imagine that), AND they'll always be there to offer you free dating advice (trust us, they're going to want to live vicariously through your single self),
5. Host a singles night for the books
If you've seen even one episode of a teen drama, you know your situation isn't the first of its kind. But when your bestie is suddenly shacked up, it's hard not to feel like the *only* solo woman in town.
Gain some perspective by getting together with your fellow single ladies and doing all the things that you can't do when you're in a relationship. Throw on your sweats, crack a bottle of wine (or two...), blast some girl pop, keep the rom-coms rolling and toast to each other — and your freedom.
This post is sponsored by Cupcake Vineyards.