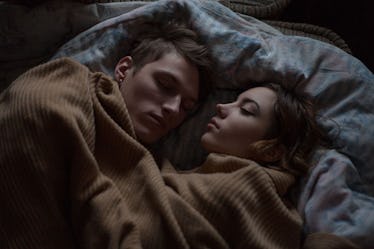 5 Ways To Stay Cool At Night If You're A Sweaty Sleeper & Need To Chill Down
At some point in my life, not all that long ago, I started to sweat in my sleep. I often wake up in the morning, sheets in a tangle, and my body is anywhere from damp to drenched. Of course, when you're sharing a bed with your SO, the heat only increases, which doesn't help the situation. Fear not — figuring out ways to stay cool at night if you're a sweaty sleeper is not an impossible task. It just means having a few cool-down tricks to pull out of your pajama sleeve.
Now, if you too are a sweaty sleeper, there are causes that might be less obvious than wearing too many layers or having an extra thick down comforter. On one hand, there can be some serious reasons for night sweats, such as infections or a hormonal imbalance, according to the American Osteopathic Association. On the other hand, sweating in your sleep isn't necessarily something to worry about. It might be because your room is too warm, or because of a medication you may be taking, or anxiety. It can even be because you eat too many spicy foods! Does any of that sound familiar?
Whatever it may be, there are ways to bring the temperature down and keep it cool. Take some tips from the pros below.