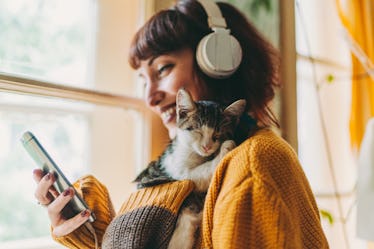 Here's How To Feel Connected To Your SO Over FaceTime When You're Apart
martin-dm/E+/Getty Images
There are lots of things you sacrifice when you and your partner are apart that couples who are together IRL take for granted. Things like being able to catch one another's eyes and have a moment of unspoken connection. Plus, obviously, all the physical stuff. But one aspect of your relationship you don't need to put on hold even when you're miles apart is your emotional connection. Not only is it possible to maintain, but it can even grow. One great way to feel connected is over FaceTime. "You can create a shared experience together, and see the reaction from your partner instantly [over video chat]. It adds an extra dimension to help you feel closer," Julie Spira, online dating expert and author of Love in the Age of Trump: How Politics is Polarizing Relationships tells Elite Daily.
FaceTiming is especially effective in helping to maintain your bond because it's essentially the antithesis of the old saying "out of sight, out of mind." As Cherlyn Chong, a dating and breakup recovery coach for professional women, tells Elite Daily, "[FaceTiming] helps you cultivate a sense of belonging and keeps your hopes up. Finding time for your relationship also helps you see your partner as a priority and helps in long-term bonding as well."
Here's how the experts say to make the most of your FaceTiming to maintain and deepen your emotional connection when you and your partner can't be face to face.