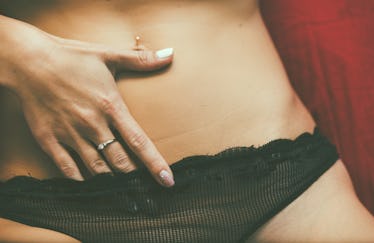 Here's How To Embrace Your Sexuality When You're Single, Because You Still Have Needs
When you're single, how is your sex life? Is it awesome and fulfilling, or do you feel like you have to flip the switch and turn it off until you are in another relationship? If it's the latter, it may be time to brush up on ways to embrace your sexuality when you're single, because just because you aren't in a couple doesn't mean you don't have needs. Besides, in some ways, now is actually the best time to explore your sexuality and fall in love with yourself — so that when and if you do find yourself cuffed up again, you'll know exactly what you want, and that is so empowering.
If you have any doubts about whether it's OK or appropriate to embrace your sexuality when you're not in a relationship, Caleb Backe, a health and wellness expert for Maple Holistics tells Elite Daily it's time to brush those concerns aside. "Sexuality and relationships aren't mutually exclusive," he stresses. In fact, he says exploring your sexuality and learning about your body when you're unattached is the first step in sex positivity. "Learning about yourself and how you react to different sensations is an integral part of developing a healthy sexual identity," he adds. That sounds pretty good to me. Here's how the experts say to do it.