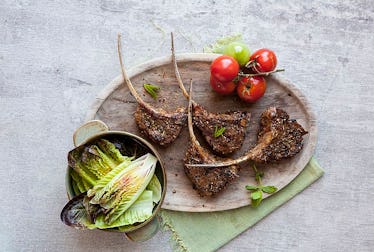 5 Easy Recipes To Make For Your Valentine Even If You Suck At Cooking
If you are anything like me, your cooking repertoire consists of, like, three really basic meals. For me, those dishes are pasta, tacos, and stir fry. This could also be why my Seamless spending is way over budget. In the event that you also suck at cooking, but you want to have a romantic dinner this Valentine's Day, don't panic-order $200 from the local steakhouse just yet. Whether you plan to surprise your partner with your skills in the kitchen or you'd rather take on the culinary challenge together, these four easy Valentine's Day dinner ideas will have you feeling like Martha Stewart.
From a light dinner of shrimp tossed with garlic, to a creamy cheese and beer fondue, the simplicity of these recipes doesn't diminish how delicious they are. Plus, they won't leave you feeling so full that you can't hook up later on that evening. We are talking about Valentine's Day, after all.
So dim the lights and set up candles or twinkly LEDs to transform your house, dorm, or apartment into a more romantic setting. Presentation is everything, so arrange the food carefully, pull out your classiest dinnerware, and make sure all the silverware (or, whatever, plasticware) matches. Martha would be proud.
1. Lemon Garlic Shrimp
This ridiculously easy skillet shrimp recipe courtesy of Delish can be ready to serve in just 15 short minutes. Toss the shrimp over angel hair or fettuccine. The pasta will add extra flavor as well as the opportunity for an adorable Lady and the Tramp-inspired moment.
2. Cheddar-Beer Fondue
To turn this indulgent fondue appetizer fromWoman's Day into a more filling main course, incorporate lots of different dipping options. Suggestions include sliced sausage, broccoli, potatoes, bread, and apple slices, but feel free to try other combinations. Crunchy potato chips covered in beer-infused cheese? Yes, please.
3. Lamb Chops With Mint Garnish
Nothing says "this is a special occasion" like perfectly broiled lamb chops. The prep time for this five-ingredient Italian dish from Country Living is a quick 20 minutes, but be sure to start about two-and-a-half hours before dinner, as the lamb needs to marinate for two hours. That means you can get ready for date night while it's in the fridge. Yay, multitasking.
4. Chicken Florentine Flatbread
Craving pizza? Take "it's not delivery" to the next level with this delectable 30-minute flatbread by Creme De La Crumb. Use naan instead of flatbread for unique flavor, and definitely add the optional basil and sun dried tomatoes. It will be abundantly clear to your SO that this meal has never even come close to a cardboard box.
5. Citrus, Strawberry, & Avocado Salad
Avocados and strawberries are both known aphrodisiacs. Encourage a healthy sex life and a healthy heart with this fresh and creative salad courtesy of Community Table. Trust me, this is not your average salad. The strawberry poppy seed dressing is as pleasing to the eye as it is sweet and savory on your tastebuds, and a sprinkle of goat cheese on top makes for the perfect final touch.
Each of these five dinner ideas is so easy and oh so enjoyable. You might just end up adding them all to your list of go-to meals. That would bring me to a rotation of eight, which feels like a way more respectable number than three.
Check out the entire Gen Why series and other videos on Facebook and the Bustle app across Apple TV, Roku, and Amazon Fire TV.
Check out the "Best of Elite Daily" stream in the Bustle App for more stories just like this!