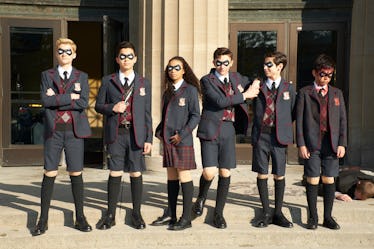 5 'Umbrella Academy' Season 2 Theories That Will Make Your Brain Hurt
Netflix
For fans of superhero series on Netflix, July will be a good month. Even though the streaming service has canceled all the Marvel series, that leaves room for shows developed from Dark Horse comics. So far, the biggest Dark Horse comic hit on the streamer is The Umbrella Academy, starring some of the most troubled and misbegotten superheroes ever to grace a graphic novel. Even better, the series is getting a Season 2 come July 31. These Umbrella Academy Season 2 theories will help tide fans over as they wait for the next season.
The Umbrella Academy is a story of an adopted family of children with abilities, who were implanted in their mothers by a disguised extraterrestrial, who called himself Reginald Hargreaves, or "The Monocle." He refers to the children by number. They are, in order: Luther, Diego, Allison, Klaus, The Boy (who disappeared too young to name himself), Ben (who died before the show starts), and Vanya.
Vanya believes her powers never developed, but that turns out to be untrue. She's so powerful, it frightened Reginald, who suppressed her abilities. When she finally does come into her own, her destructive anger accidentally damages the moon, causing it to explode and the apocalypse to begin.
Season 1 ends with all seven siblings traveling back through time to find a way to stop the end of the world. As for what will happen in Season 2, fans have a lot of theories.