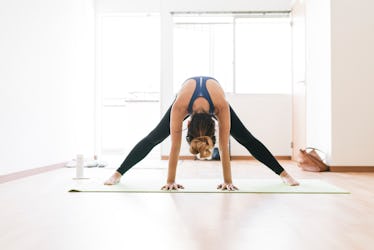 These 5 Simple Hacks Will Help You Commit To Your Home Workout Routine No Matter What
Home workouts are where it's at, people. You can make as many ugly, sweat-drenched faces as you want without being judged (except maybe by your dog, but what does he know?), and you don't have to wait for those annoying dudes to be done hogging all the free weights. There is, however, the issue of getting home from work or school, feeling exhausted AF, and going down the list of excuses for why you should skip your daily workout. It's on those low-energy days when you need a few tricks to working out at home in your back pocket to help you stick to that routine, no matter how lacking your motivation is on any given day.
Let's be real: It's pretty easy to say you'll work out when you get home at the end of the day, but it's a whole other reality to actually maintain motivation and consistently commit to your routine, day in and day out. The couch looks far too tempting and comfortable, your favorite Netflix series is calling your name, and you just bought a brand new pint of Ben & Jerry's that must be devoured — like, ASAP.
But, come on. Think about how amazing all of those things will feel after you've completed your scheduled workout, when your body's been flooded with all of those feel-good endorphins. Here are five tricks for sticking with your daily home workout, and keeping yourself consistently motivated.