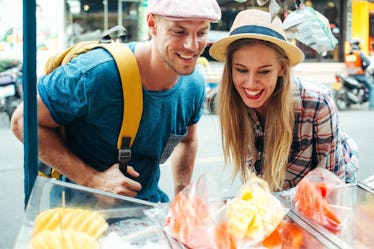 5 Travel Experiences For Foodies In 2019, Because The Perfect Pizza Is Worth Flying For
A food-cation is what happens when you combine two of the greatest things on Earth: travel and food. Are you a self-proclaimed foodie who will fly across the world to try the perfect slice of pizza? Well, I don't blame you. Good food is honestly everything, and sometimes you must go to great lengths to enjoy it. In my opinion, it makes perfect sense to fly to Italy for a cone of pistachio gelato, or Thailand for Pad Thai. Food can give you a true taste of a country's culture. That being said, here are some of the best travel experiences for foodies in 2019.
There's nothing like the real thing, especially when it comes to food. Traveling allows you to get up close and personal with a country's culinary scene in ways that you can't back home. In fact, it's bittersweet. Once you have street tacos in Mexico, you'll shake your head at the tacos in your hometown. When you finally get a chance to savor authentic crepes in France, you'll be on a never-ending search for a crepe that can match up. It's totally worth it, though.
A food-cation will give you the opportunity to fully indulge in the local cuisine. Let's just say, you'll never travel the same way again!