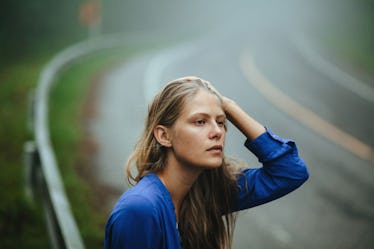 5 Things You'll Notice If You Have A Jealous Partner, Because It Can Be So Toxic
Relationships can be complicated, and even if you and your partner are totally in love, that doesn't mean things will always be just peachy between you. There will be ups and downs, and even the most dedicated couples have their fair share of problems. Jealousy, for example, can be a common issue for some, and even the most secure couple can succumb to a bad bout of the green monster. But if you think your significant other is starting to get envious or suspicious for no reason at all, then these things you'll notice if you have a jealous partner might help you identify that your partner might be jealous by nature.
Of course, jealousy is a complex issue, and it's important to try to put yourself in your partner's shoes and understand why your partner might be feeling the way they are. "One thing to consider with someone who is jealous is whether or not they are anxiously attached," dating and relationships expert and licensed marriage and family therapist Anita A. Chlipala, tells Elite Daily. "Anxiously attached people more commonly are jealous and insecure about their relationship. They are more suspicious that their partner is unfaithful, even if there are no signs of infidelity."
If your partner is jealous or anxiously attached, there are definitely things that you'll notice about them that can be helpful to keep in mind. No one deserves to feel watched or judged in a relationship, so take notes.