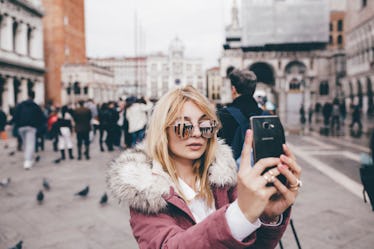 I Took A Day Trip To Venice & These Are The 5 Sights You Shouldn't Miss
Believe it or not, there are some destinations on this planet you can explore in 24 hours. During my semester abroad, I covered most of the major sights and attractions in Paris in a single day. I also ate pizza topped with fresh olives and prosciutto, toured the Colosseum, and took artsy pictures with the Trevi Fountain in Rome in an afternoon. So it's safe to say I feel pretty qualified to give you a list of things to see in Venice in a day that you and your wanderlust will totally love.
I know what parts of this dreamy city can be skipped if you're tight on time, and what excursions you should go on before walking into a local restaurant with authentic seafood pasta on the menu. From my personal travel experiences, I can tell you gondola rides aren't overrated, and the little white bridges that cross over the canals are as quaint and perfect as Tumblr and Instagram make them out to be.
My heart was in total awe when I caught my first glimpses of this Italian paradise. I think my mouth even dropped when I looked out the water taxi's window and saw the pastel buildings. After seeing each of these five things, I fell farther into my beautiful love affair with Venice. If you check them out on your upcoming day trip, I'm willing to bet you'll feel the exact same way.