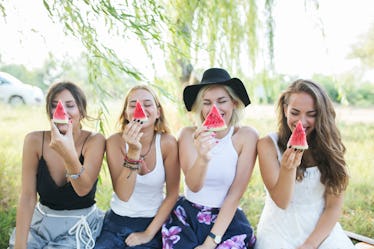 5 Must-Dos With Your Sorority Sisters Before Graduation Comes & Goes
Ah, graduation. It comes quicker than we ever anticipate, doesn't it? One moment, you're a freshman accompanied by dozens of moving boxes, and the next minute, you're a junior complaining that graduation will never, ever come. Then before you know it, you're wearing a cap and gown wondering where the past few years really went. You make some of your best friends in college, whether it's through clubs, dorm life, or your sorority. The last thing you want to do is leave them, or even think about a daily routine that doesn't have them in it. That's why it's a good idea to have a bucket list of things to do with your sorority sisters before graduation comes and goes.
Your sorority sisters are some of your forever friends. Whether or not you initially pictured yourself joining Greek life, these ladies instantly became the highlight of your years on campus. They're your confidants, and your beloved support system. You can't imagine your life without them — and rightfully so.
Instead of feeling blue about leaving these amazing souls, now's the time to kick things into high gear. You've got to pack as much as you can in the time you have left together in college. These five things are guaranteed to be a blast, and you'll be too busy having fun to even think about graduating.