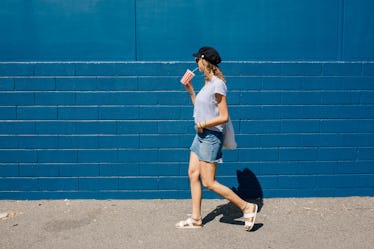 Even If You're Not A Workout Person, Doing These 5 Things Every Day Counts As Exercise
I don't know if you can relate, but after a long day, I'd much rather keep my date with my Netflix account than my date with my workout routine. Something about the formality of sticking to a strict, intense gym routine can be really intimidating, so what works best for my body is finding a variety of interesting ways to incorporate physical activity into my day. If you know where I'm coming from, luckily there are so many everyday things that count as exercise, many of which you probably already do on a regular basis. But even if you don't, it's super easy to get started ASAP.
Now, if you've read any kind of health news in the last 20 years or so, you probably already know that study after study has found that staying active is one of the best things you can do to take care of yourself. From lowering your risk of heart disease to boosting your mental health, it's clear that regular physical activity does wonders for your well-being. So the question really isn't why should you try to work out more often; it's more about how you can stay active when you already barely have time to feed yourself and return your mom's texts.
For starters, according to Ariel Osharenko, a physical therapist, strength and conditioning coach, and personal trainer, you don't have to work out for a long time, nor do you have to get active every single day. A few minutes here and there can easily accumulate, and before you know it, you'll actually break a sweat, without hating a single minute of it. Here are a few ways to stay active on the daily.