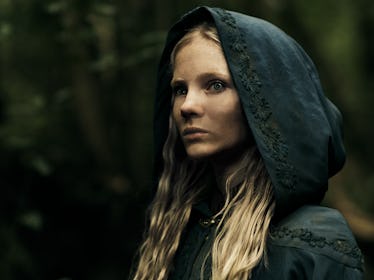 5 'The Witcher' Season 2 Theories That Will Make Your Heart Race
Netflix
Netflix wanted to create the next Game of Thrones with The Witcher. It may not have found it exactly — there are no dragons for one thing. But The Witcher and Game of Thrones do have one thing in common: an ability to drive fans mad with speculation. Between the twisting timeline and the wide-angle the show used in tackling the source material, fans have spent weeks obsessing on where The Witcher's been, where it is, and where it's going. These The Witcher Season 2 theories might help as a divining rod to light the path to the next season.
The Witcher is fascinating because, unlike Game of Thrones, it's not a sprawling narrative across continents, but across time itself. The show doesn't have to stop and spew exposition on the Northern and Southern kingdoms or explain the political situations in Cintra and Nilfgaard. Seeing how characters react to those kingdoms in Yennefer's time as opposed to Ciri's time gives all the backstory one could need about the rise and fall of fortunes.
With a new season already greenlit and a cliffhanger ending for Yennefer's character, the question for fans is how does the show keep it up? What parts of the source material will make it into the new season? Here are a few theories for what fans can expect.