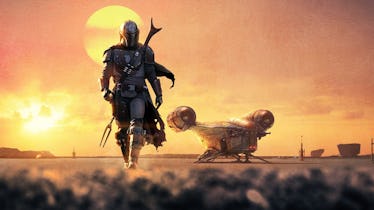 5 'The Mandalorian' Season 2 Theories That Will Really Make You Think
Lucasfilm
Disney+'s launch on the back of Lucasfilm's The Mandalorian was a masterclass in how to bring in subscribers to a streaming service. It was also the bright spot for the Star Wars franchise, who weathered the end of the main tentpole franchise in theaters at the same time. Currently, Disney+ has planned to bring back the hit show in the fall of 2020, with a loose release window of October. But fans aren't waiting for the series to start guessing what happens next. These The Mandalorian Season 2 theories prove viewers have a lot of ideas about what direction the show should go.
Of course, the most significant part of The Mandalorian is Baby Yoda, the Child who took social media by storm. When The Mandalorian's first season ended, Mando (as everyone calls Pedro Pascal's lead character) was charged with finding Baby Yoda's home planet. But the story won't be as simple as just trying to get a lost alien to phone home. With the evil Moff Gideon hot on Mando's tail, chances are there will be as many adventures where Mando and Baby Yoda need to lay low as there were in Season 1.
But fans have ideas of what Gideon is after, and who might be after Gideon.