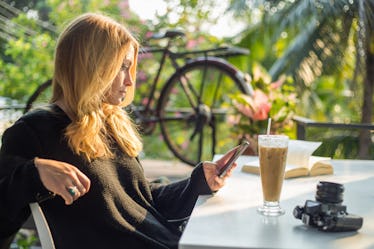 5 Texts To Send Your Crush If You Accidentally Send Them A Screenshot Of Your Convo
Anyone with a pulse knows that accidents happen, and for some seriously messed up reason, they always seem to happen when we're least expecting them. We all know that feeling — suddenly realizing the gravity of our accidents and feeling our blood run cold. If you're like me and alternate between hitting up your mom and your crew for dating advice, then you've probs endured the worst: texting your crush a screenshot of your conversation that was meant for someone else, AKA, total humiliation. But don't worry! With these texts to send your crush after an accidental screenshot, you might be able to ensure the damage is minimal.
Let's be real, sometimes you really need some objective input on what your crush meant by that cryptic AF emoji cluster. So naturally, you take a screenshot and send it to your group chat for an in-depth analysis. But you only realize once it's too late that you actually sent it to your crush instead. Awk. Now, before you have a total meltdown, consider this: If your crush knows that you like them, is that really the worst thing? Of course, it depends on if it was just the screenshot or if it was accompanied by a paragraph-long obsessive message, but at the end of the day, if you're both able to laugh it off, then it could end up giving them just the confidence they needed to ask you out... because you'd obviously be down!
So if you find yourself tripping over what to say next (or if you should even say anything at all), here are five ways to gracefully move past it.