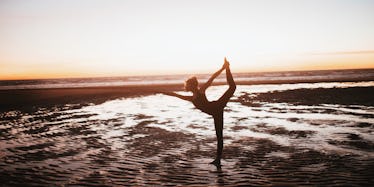 These 5 Stress-Relieving Stretches Will Help You Wind Down After A Long Day
When you're stressed AF, your mind isn't the only thing working overtime; your entire body responds by getting tight and tense as all hell. From a cramped up neck, to knotted shoulders, to that ache in your lower back that just won't go away, stress can feel like Satan himself is tagging along uninvited wherever you go (seriously, GTFO dude). That's why implementing stretches that reduce stress into your everyday routine is super important for relieving your entire body, relaxing your mind, and sending that stress-inducing devil back where he belongs.
According to ShareCare, when you're stressed out, your blood flow becomes restricted, which creates tension in your lower back, and even most of the other muscles in your body. That's why, when anxiety hits, your mind isn't just cloudy; your whole body feels off, and you feel like you're due for a day devoted strictly to deep-tissue massages.
However, throwing in a few revitalizing stretches can help stimulate your nervous system and decrease the production of those dreaded stress hormones that are bringing you down. Stretching effectively to specifically target stress means isolating tension-storing muscles — which are typically the shoulders, lower back, and neck.
And if the thought of stretching initially stresses you out more, I feel you fam. But these bad boys will only take about three minutes of your time, and you get to enjoy a clearer mind and total body relief after the fact.
Here are five stretches that will help you relax after the longest of days. Seriously, these stretches will feel like you're giving both your body and your mind the biggest, warmest hug you didn't even know you needed.