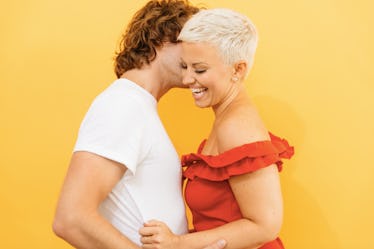 5 People Reveal Their Most Memorable Hookup Stories & Whoa, They're Steamy
Bustle/Ashley Batz
I love hearing about other peoples' hookup stories. Like, tell me all your stories about hookups, because I love the drama of it all. Did something weird happen? Funny? Romantic? Please spill all of the tea and don't leave out one detail. Beyond the scripted moments of television and movie hookups, real-life ones can be beyond hilarious and entertaining as well. I combed through the subreddit AskReddit to find entertaining hookup stories for you, dear reader, to enjoy.
Some of the stories have major twists of love (or lust) gone wrong, and some are downright embarrassing. But what they all have in common is they're definitely out of the ordinary.
One of my funniest personal hookup stories is when I was hooking up with someone in college, and a fire alarm went off in my dorm. We had to awkwardly leave mid-hookup and face our mutual friends who didn't know about the two of us, and engage in small talk with them for the duration of the fire alarm. I also had to go outside in cold New York weather after quickly throwing on some pajamas shorts. Not my best call... but it makes for a good story now, in hindsight. For other juicy hookup stories, read on.