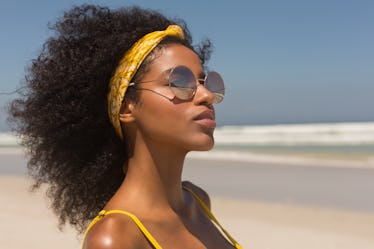 5 Subtle Signs You're Ready To Start Dating Again After A Breakup
It's not exactly a hot take to say that breakups can be really hard and painful. However, there's one silver lining about ending a relationship (although it may take awhile for you to see it). Now that you're single, you're free to fall in love again, and this next one might just be the greatest love of your life. Honestly, that's a pretty freaking exciting prospect. But in order to be ready for new love, your heart has to be open and willing to recognize the signs you're ready to date again after a breakup.
But how do you know when you're ready to get back out there and start dating again after a breakup? According to Diana Dorell, intuitive dating coach and author of The Dating Mirror: Trust Again, Love Again, it's all about how you're feeling instead of how long it's been since the breakup. "Many experts say it takes half the time you were with someone to get over them, but in my experience, it's less about the amount of time and more about the depth of the connection. If it's someone you knew you were lukewarm about and just stayed in it because of convenience, it will feel much easier to date another person, even if you were together a 'long' time," Dorell tells Elite Daily. But here's the tricky part: The signs that you're healed and ready to date again can be really subtle. Unless, of course, you know what you're looking for. Here are what the experts say are good indications that you're ready to get your flirt on and start dating again.