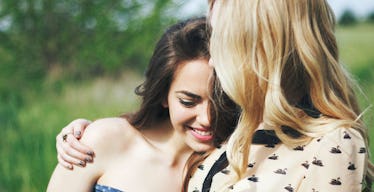 5 Signs Your Partner Is Fully Comfortable Being Their Truest Self Around You
When you're getting to know someone while dating, you may be overthinking what you say, unsure of what to do with your body when sitting or hanging out with them (just me?), and in general, feel kind of awkward. As you get used to spending time with another person, you'll adjust, and feel more natural being with them. If you want some signs your partner is comfortable around you, I've rounded up a list with the help of Samantha Burns, relationship coach and author of "Breaking Up & Bouncing Back."
Of course, take these with a grain of salt: Everyone has varying comfort levels and it takes time for certain people to let others in. Like, if you go to hold my hand on a first date I'll wonder what the hell you're doing because I just met you and hand-holding in my eyes is ridiculously intimate. I reserve that kind of thing for at least a couple of dates, if not an actual relationship. (I know I am maybe slightly ridiculous.) So, if you're in a relationship, the following signs will certainly tell you that your partner has reached that point of comfort level with you.